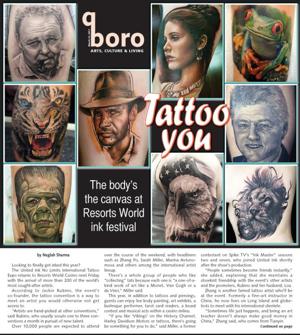 Looking to finally get inked this year?
The United Ink No Limits International Tattoo Expo returns to Resorts World Casino next Friday with the arrival of more than 200 of the world's most sought-after artists.
According to Jackie Rubino, the event's co-founder, the tattoo convention is a way to meet an artist you would otherwise not get access to.
"Artists are hand-picked at other conventions," said Rubino, who usually scouts one to three conventions a month in pursuit of new talent.
Over 10,000 people are expected to attend over the course of the weekend, with headliners such as Zhang Po, Sarah Miller, Marina Avtonomova and others among the international artist lineup.
There's a whole group of people who like "collecting" tats because each one is "a one-of-a-kind work of art like a Monet, Van Gogh or a da Vinci," Miller said.
This year, in addition to tattoos and piercings, guests can enjoy live body painting, art exhibits, a burlesque performer, tarot card readers, a beard contest and musical acts within a casino milieu.
"If you like 'Vikings' on the History Channel, Harley Davidson Motors or tattoos, there's going be something for you to do," said Miller, a former contestant on Spike TV's "Ink Master" seasons two and seven, who joined United Ink shortly after the show's production.
"People sometimes become friends instantly," she added, explaining that she maintains a closeknit friendship with the event's other artists and the promoters, Rubino and her husband, Lou.
Zhang is another famed tattoo artist who'll be at the event. Formerly a fine-art instructor in China, he now lives on Long Island and globe-trots to meet with his international clientele.
"Sometimes life just happens, and being an art teacher doesn't always make good money in China," Zhang said, who comes from Tianyin.
He added that his personal evolution, including a break up with an ex-girlfriend, helped to inadvertently usher him toward the tattoo industry.
"I was kind of an early tattoo artist in China," said Zhang.
Zhang, who's been professionally tattooing for 13 years, owns four tattoo parlors in China, which are mainly operated by his students. He's been working at Tattoo Lou's of Selden, LI, owned by the Rubinos, since coming to the United States in 2012.
"I used their ink for 13 years; I'm living proof of their product," said Zhang, who said he's fully booked in China until 2020 as a result of his photorealistic artwork.
"I learned English at Lou's tattoo shop," he said half-jokingly; he has no formal education in the language.
"Next week we're going to Taiwan for a convention, me and Lou," Zhang continued. "Taiwanese artists will then come back for our show in New York right after."
"People fight for the booth," he added. "Artists are from everywhere."
At last year's event, Zhang and Miller collaborated on a portrait of the elven queen Galadriel from "The Lord of the Rings."
"Collaborations are not easy because you must be sure that the artist is balanced with you in background and style, and the technique must also be very similar to your own," he said.
Their styles must have matched well, as the collaboration earned them a coveted Tattoo of the Day award.
The artists' contests in multiple categories constitute the main competitive element of the expo, but not the only one. It also will feature a Miss United Ink contest, barber competitions — with haircuts available to attendees — and a battle for the best beard.
Between seemingly limitless tattoo shop options and the art form's permanent nature, there's something unmistakably poetic about ink enthusiasts traveling to Queens from Long Island, Manhattan and beyond to meet with, and possibly book, their favorite artists.
No Limits Tattoo Expo
When: Fri.-Sun., March 31-April 2
Where: Resorts World Casino, 110-00 Rockaway Blvd., South Ozone Park
Entry: $25-$55. 1 (888) 888-8801,
newyorktattooshow.com
Source: Queens Chronicle