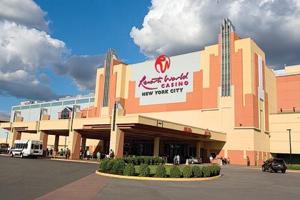 Resorts World New York continues to be one of the top economic performers in the state, making more money for the Education Fund than any other gambling site and outperforming some Lottery games, according to figures released by the NY Lottery.
The Lottery's fiscal year-end report shows the South Ozone Park racino's net win — total bets minus prizes given out — was $786,411,573 from April 1, 2016 to March 31, 2017. It contributed $361,643,895 to the Education Fund — money from which is distributed to every state school district based on a formula.
The second-most profitable casino was Empire City Casino in Westchester County — which had a net win of $592,115,668 and sent $313,658,175 to the fund.
"Resorts World is proud to support New York's public education system and is committed to continuing to help provide students with a high-quality public education," said Scott Molina, president of Resorts World Casino New York City in a prepared statement. "Our partnership with the State has been extremely beneficial for New Yorkers both in terms of education aid and economic development, and we look forward to an even brighter future."
The racino said its contribution to the state is enough to hire 6,700 new teachers in New York City and supply five million textbooks to students in the state.
Despite remaining one of the top contributors, Resorts' contribution was slightly less than the previous fiscal year's.
In 2015-16, its net win was $845,907,210 and $390,780,113 went to the fund, decreases of approximately $60 million and $30 million, respectively.
Overall contributions to the Education Fund saw a slight dip as well, relatively speaking.
The 2016-17 fiscal year saw $9.8 billion sent to schools statewide, compared to a $9.69 billion contribution in 2015-16.
In the most recent fiscal year, Resorts was outperformed by scratch-off games — which had $4 billion in total sales and sent close to $870 million to the Education Fund — Win 4 — $920,766,428 in total sales and close to $380,000,000 sent to the fund — Numbers — almost $900 million in total sales and $370 million to the fund — and QuickDraw — about $795,000,000 in total sales and $247,466,316 to the fund.
Source: Queens Chronicle