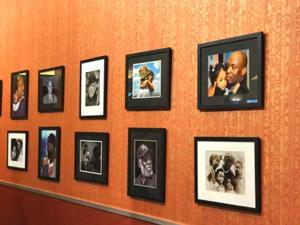 The Southeast Queens Camera Club is always looking for venues to display the works of its photographers.
And when members heard that Resorts World Casino was looking for a new exhibit for its Red Wall Gallery in June, the two parties came together — quickly — over Father's Day.
"An Ode to Dad" features three dozen works by members of the club who were on a mission to capture photos celebrating fatherhood.
"Ever since we opened in 2012, we've been reaching out to the community asking for contributed photos that we can use on display," said Michelle Stoddart of Resorts World in a telephone interview with the Chronicle.
She said Greg Mays, founder of A Better Jamaica and a member of Community Board 12, brought the two groups together.
Lisa Wade, a board member of the Southeast Queens Camera Club, said it has been around for 12 years and has about 65 members. She said the exhibit came together in about two months.
"We decided on a Father's Day theme because it is in the month of June," Wade said. "It all just came together. The hard part was narrowing down more than 100 submissions to 36 or 37," she said.
The framed photographs are in both color and back-and-white. Some depict fathers and their children, from very young to very old. Some are portraits. Others are symbolic, such as a close-up of the hands of a working man, or a small girl's dancing shoes next to large workboots that their owners both no doubt treasure.
Wade said anyone interested in joining the camera club is invited to check the group's website online at seqcc.org.
The artists whose works were accepted into the show were treated to a private reception at Resorts World on June 7.
Anyone 18 and over can come to the casino and view the free exhibit during regular hours from 10 a.m. to 6 a.m. There will be information for those interested in contacting the club or purchasing the photographs on display.
"We're glad there are so many great photographers in Queens and for the club itself, where people can discover hidden talents," Stoddart said.
'An Ode to Dad'
When: Through June 29
Where: Resorts World Casino,
110-00 Rockaway Blvd.,
South Ozone Park
Entry:Free. 1 (888) 888-8801,