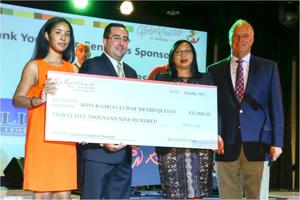 More than $50,000 was raised for the Boys & Girls Club of Metro Queens at the nonprofit's 14th annual Global Cuisine of Queens Food Tasting event Oct. 18.
The event, held at Resorts World in South Ozone Park, showcased dozens of the finest eateries from Queens, Brooklyn and Long Island.
"I would like to thank all of the sponsors, restaurants, wineries, and bakeries for helping to make our Global Cuisine of Queens event a tremendous success" said John DeCristoforo, CEO of Boys & Girls Club of Metro Queens.
Resorts World made a $35,900 donation to the club at the event. DeCristoforo, second from left, accepts the check along with Imani Murray, a racino representative; Michelle Stoddart, director of Resort's community development; and Joseph Liana, the Richmond Hill club's president.
Source: Queens Chronicle