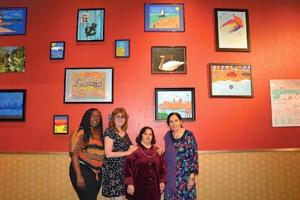 Several weeks before another summer season introduced itself to New Yorkers, Erika Hochgreb had already started painting a picture of what hers may look like.
She started with a canvas and strokes of ocean blue to capture the rippling waves of the water, followed by red and white for the sailboats cruising towards the sandy edges of the shore. Peaks of evergreen mountains looked the skyscrapers in the background directly in the eye.
But when Hochgreb received a letter saying she would have her work featured in Resorts World Casino NYC's art exhibit, she was amazed and excited.
"I was in shock when they picked me to do it," Hochgreb said. "I couldn't believe it."
Hochgreb is one of the many participants who have their artwork on display for a two-month exhibit in the casino's Red Wall Art Gallery. The exhibit, which opened to the public on June 1 and will remain open until July 31, holds more than 30 paintings and drawings created by residents of Queens Centers for Progress, an organization dedicated to helping adults and children with developmental disabilities.
When the casino presented QCP staff members with the idea of having their clients' artwork highlighted, the theme of summer came to mind. "Summer in the City" was the name Activities Director Tara DeLaine and her staff created. From there, it was up to the residents to produce their work.
Greg Paek, a QCP member whose artwork was also chosen for display, said he had fun creating his painting, a blend of bright summer colors hanging in the middle row of the gallery's walls.
As soon as the theme was announced, he thought of fruit.
"I did the pineapple," Paek said. "I like the summer and doing this art."
Founded in 1950, QCP dedicates itself to providing skill development, independence and integration into community life for its residents. In providing services to more than 2,000 people and their families, QCP operates six immediate care facilities, three individual residential alternatives and a children's center for both nondisabled preschoolers and children with disabilities.
As one of the largest nonprofit agencies in Queens, QCP has since expanded and has three sites in the borough, including the adult and children's centers in Jamaica.
"We are thrilled to be working with Queens Centers for Progress on our next Red Wall Gallery exhibit celebrating summer in NYC," Michelle Stoddart, the casino's director of PR and community development, said just before the display opened to the public. "As an entertainment and cultural hub, Resorts World Casino New York City is committed to showcasing the talents of aspiring artists in our community."
The gallery, which can be viewed by more than 10,000 visitors on a daily basis, takes up two floors of the casino and has been displaying the work of Queens artists for the past five years.
"From our very first exhibit in 2012, we saw strangers come together to view and comment on the works on display," said Dragana Bozic, a spokesperson for the casino. "We also saw artists being able to show off their work to loved ones and to view their work in a professional and public setting. Resorts World Casino New York enjoys giving both our guests, staff and artists a resource in Queens to enjoy diverse offerings in an entertaining space."
A special grant from Elk's Club Lodge No. 878 provided additional materials for the exhibit, including the frames that encase the artwork on the walls.
"Most of the money we receive comes from the state and federal government," DeLaine said. "We need funds to support the programs that we do. So when the Elks Club offered us the grant, we were happy to take it."
While visiting the casino two years ago, DeLaine came across the art gallery and dreamed of one day seeing the work of QCP residents aligning its walls. When the opportunity came, she immediately began the process of coming up with ideas for what they could do.
The final result was one that brought her dreams to fruition.
"It really means a lot to the whole organization and the artists to showcase their talent," DeLaine said. "On their recreation time, a lot of the residents love to go to the resort, especially Erika and Greg."
Her initial thoughts when she saw the paintings?
"It blew me away."
Aside from collaborating with the casino in the future to have more artwork displayed, DeLaine said that QCP wants to expand its outreach.
One of its goals is to find a public space in the area where members can create their own pieces and have them installed for projects, which DeLaine believes would benefit both the members of QCP and those who view the creations.
"It would be fun, and people could see it," she said.
For DeLaine, it's people like Hochgreb who inspire her to find new ways to have their work illustrated for the front lines of society to admire.
Hochgreb, a native of Brazil who only spoke Portuguese when she came to America in 1972, said that she learned English through years of schooling and education. Art was always one of her loves.
Then she finally got the chance to put her talents on display. Now thousands of onlookers have the chance to walk by and smile at the portrait that helped ring in the summer season, along with the works of her fellow QCP clients.
And even as the puffy clouds on her masterpiece meticulously settle over the city, her love for art will always shine bright.
"I feel happy, it's very special," she said. "I'm very proud of myself for doing this."
Source: Queens Chronicle