Popular event brought together 2,500 sci-fi, pop culture, anime, cosplay, and comic book enthusiasts
(Queens, NY) – This past weekend, Wintercon New York Comic and Sci-Fi Expo was the first convention to return to Resorts World New York City since the beginning of the COVID-19 pandemic two years ago. The event, now in its seventh year, brought together over 2,500 sci-fi, pop culture, anime, cosplay, and comic book enthusiasts for two full days of fun.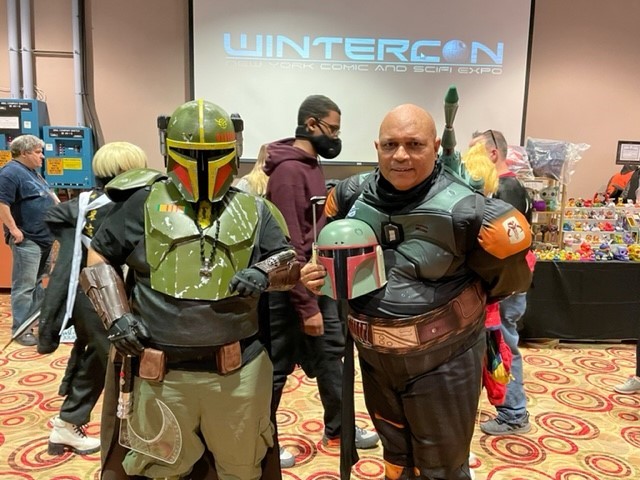 There was a full agenda of panel discussions and meet and greets, with plenty of vendors and after-parties. Guests had the opportunity to take photos and have autographs signed by their favorite celebrities. This year's special guests included Nick Castle ("Halloween," "Halloween Kills," "Halloween Ends"), Michael Biehn ("Aliens," "Terminator," "Tombstone," "The Mandalorian"), Kristanna Loken ("Terminator 3," "Painkiller Jane," "Mortal Kombat Conquest"), Nick Stahl ("Terminator 3," "Sin City," "Fear the Walking Dead"), and more.
Additionally, Wintercon's Artist Alley featured artists, illustrators, and writers from around the world who displayed and showcased their best work. From geek prints, posters, and cards to special commissioned sketches and original art, there was something for everyone!
Wintercon is also home to some of the best cosplay in the world, with the Official Wintercon Cosplay Contest drawing a large crowd of participants and onlookers. There were fandom Cosplay Photo Meet-Ups and opportunities for autographs and pictures with professional cosplayers.
About Resorts World New York City
Resorts World New York City (RWNYC) is New York City's first and only casino-hotel, offering over 10 million guests annually an unparalleled gaming and entertainment experience and generating over $3 billion for the State's education system since opening in 2011. The opening of the Hyatt Regency JFK Airport at Resorts World New York gave visitors from around the world more ways to enjoy the ultimate play and stay experience. Dining options include Sugar Factory American Brasserie, America's favorite eatery and celebrity hotspot. There are a variety of non-gaming amenities, as well as entertainment options, allowing guests of all interests and budgets an experience that fits their personal tastes. RWNYC is operated by the Genting Group, a global company founded in 1965, operating destination resorts in Las Vegas, Bimini, Malaysia, Singapore, the Philippines, and the United Kingdom. Genting has more than 50 years of experience in the travel and leisure industry and collectively employs approximately 60,000 people while offering an unparalleled resort experience to over 50 million visitors a year worldwide.
FOR IMMEDIATE RELEASE
March 14, 2022
Contact: Gael Black
RWNY@mercuryllc.com