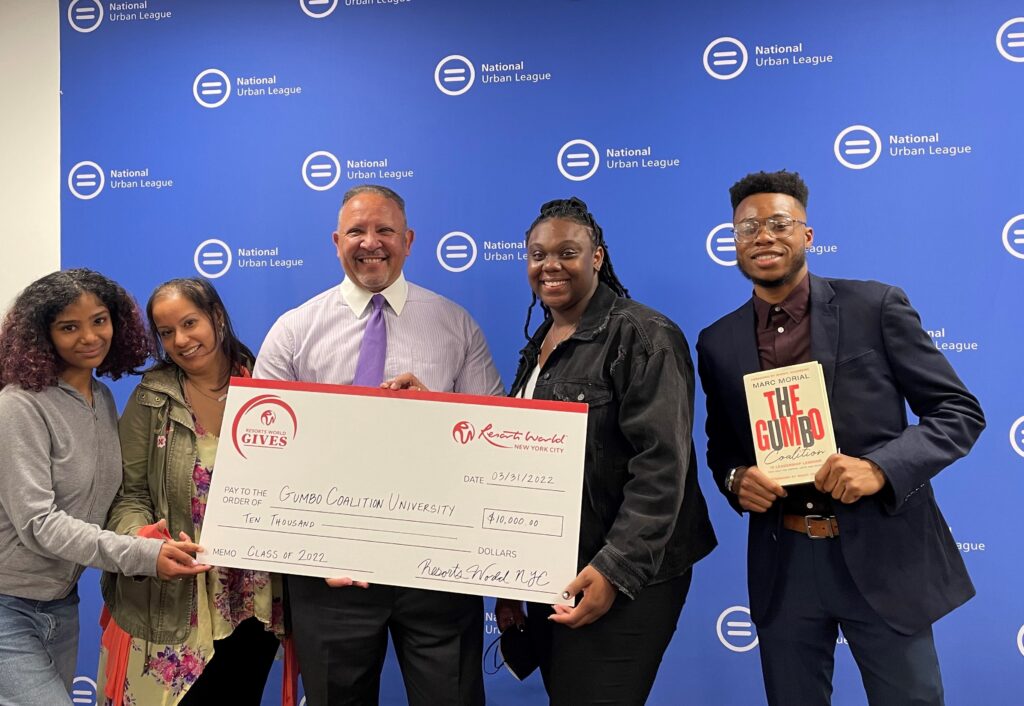 The students took advantage of a very special opportunity provided by Gumbo Coalition University (GCU) and Resorts World.
Seven of the eight qualified students made up the 2022 York's second class of GCU cohort from York College. They participated in bi-weekly virtual leadership classes taught by esteemed leaders, including Marc Morial, president of the National Urban League. The virtual leadership classes started in January and ended in April. All seven students received a $1,500 scholarship rewarded by Resorts World New York.
A completion email from Resorts World's Community Development Specialist, Courtney Heyward to York's Career Services, stated, "I am happy to inform you that all six York College students have completed the Gumbo Coalition University Class of 2022! Thank you once again for providing us with stellar students for the program. Three students (Maya Jacob, Aayola Ajayi, and Aarti Maharaj) met with Marc Morial, author of The Gumbo Coalition. We look forward to having York College become Gumbo Scholars next year [again]."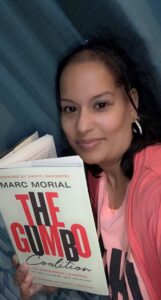 Participant Aarti Maharaj explained that the six-week program ran from mid-January to the end of March, and "was fun as well as an enriching experience that will last a lifetime."
"York Career Services is extremely excited that its students have taken advantage of the Gumbo Coalition University 2022," says Ben Drepaul, Associate Director, for Career Services. "Apart from the scholarship fund, our students were able to meet with leaders in the business, media, and the non-profit industry to gain insight from their career path that will no doubt assist them in their own journey to success."
Maharaj explained that they received a book called Gumbo Coalition they were required to read chapters and then discuss the book in detail through a course outline.
"We were able to engage and discuss the different skills needed to be a great leader," Maharaj explained. "We had different lecturers on the live zoom sessions that shared their personal experiences."
The student was impressed with the entire program. "This was an enriching experience I learned so much about being a leader and the necessary skills needed to be a successful and productive leader," she said. "[It was] a necessary combination of skills abilities and attributes for becoming a transformative leader. As a future educator, I learned a lot of valuable life skills and lessons I can apply to everyday use as well.  I learned so much by asking questions as well as how to be successful."
She says she would definitely recommend applying to the Gumbo Coalition University "because I've learned so much and the experiences will last a lifetime," she reiterated.
Michelle Stoddart, Vice President of Community Development Resorts World New York City and a member of the York College Foundation Board, was impressed with the students'.
"Resorts World is proud to support a variety of education, mentorship, and networking efforts to help expand opportunities for the next generation of leaders," said Stoddart. "As part of this work, we partnered with Marc Morial, President of the National Urban League and former Mayor of New Orleans, to develop the Gumbo Coalition University scholarship. We were honored to have York College students Ayoola Ajayi, Aarti Maharaj, and Maya Jacob as top participants in the program and are excited to see where their journeys take them."
*Gumbo Coalition University is not in and of itself a university in the traditional sense of the word, but a program created to support college students. Learn more about GCU.
Click here for the link to the article: https://www.york.cuny.edu/news/yorks-career-services-helps-students-go-to-gumbo-university-