Dates for 2023 Class Announced
(Queens, New York) – The Gumbo Coalition University, a virtual mentorship program sponsored by Resorts World New York City, ended its 2022 session with a commencement on Thursday, March 31. It was hosted both virtually and in person at the National Urban League headquarters, where students heard from NUL president, Marc Morial, who also announced the dates for the 2023 class. Morial's book "The Gumbo Coalition" inspired the creation of the program.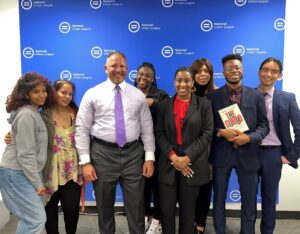 Marc Morial, National Urban League President, Poses With 2022 Graduates of Gumbo Coalition University
Over the last 12 weeks, students have met with recognized leaders across business, media, and the non-profit world to learn the attributes of a transformative leader, how to build consensus, and how to make decisions under pressure through immersive discussions and exercises.
Resorts World New York City provided airfare and hotel stay for one lucky student for the commencement. Bernyla Sparks, a student at Voorhees College, a historically black college in Denmark, S.C., was selected for her dynamism and high level of engagement in the program. Additionally, Maya Jacob, Aarti Maharaj, and Ayoola Ajayi, all students from York College, were also invited to attend for their exceptional performances.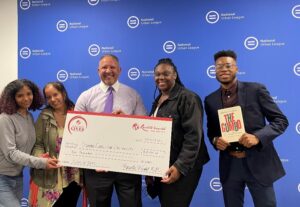 Marc Morial, National Urban League President, Accepts Check from Resorts World New York City
20 students graduated from the Gumbo Coalition University and were awarded a total of $10,000 in scholarships by Resorts World New York City. The 2022 class had an historic number of applications and further growth is anticipated in program's third year.
Applications for the Class of 2023 will open in September!
About Resorts World New York City
Resorts World New York City (RWNYC) is New York City's first and only casino-hotel, offering over 10 million guests annually an unparalleled gaming and entertainment experience and generating over $3 billion for the State's education system since opening in 2011. The opening of the Hyatt Regency JFK Airport at Resorts World New York gave visitors from around the world more ways to enjoy the ultimate play and stay experience. Dining options include Sugar Factory American Brasserie, America's favorite eatery and celebrity hotspot. There are a variety of non-gaming amenities, as well as entertainment options, allowing guests of all interests and budgets an experience that fits their personal tastes. RWNYC is operated by the Genting Group, a global company founded in 1965, operating destination resorts in Las Vegas, Bimini, Malaysia, Singapore, the Philippines, and the United Kingdom. Genting has more than 50 years of experience in the travel and leisure industry and collectively employs approximately 60,000 people while offering an unparalleled resort experience to over 50 million visitors a year worldwide.
FOR IMMEDIATE RELEASE
April 4, 2022
Contact: Gael Black
RWNY@mercuryllc.com