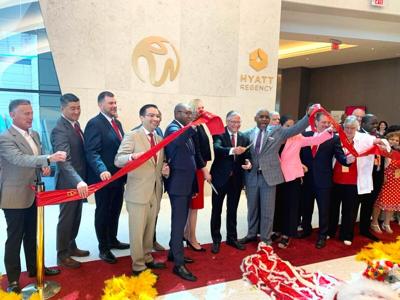 Resorts World New York City officially opened the Hyatt Regency JFK Airport hotel to guests last Friday.
The ribbon cutting for the new hotel featured executives from Genting, which owns the hotel and casino, and Hyatt, as well as elected officials and community leaders.
"We are excited to debut the Hyatt Regency JFK Airport at Resorts World New York and invite guests to experience our intuitive hospitality as they relax and recharge after a day of gaming, dining and entertainment," said Brian Reynolds, senior vice president of Resorts World NYC.
The Genting Group made waves when it made clear last year that it planned to push ahead with its plans to open a $400 million, 400-room hotel at the Queens Resorts World location while the hotel industry was in the middle of a bleak market outlook at the apex of the pandemic.
Queens Borough President Donovan Richards called the opening a huge step forward in Queens' comeback.
"We couldn't be more excited to welcome the world-class Hyatt at Resorts World NYC — as well as the job opportunities it's created — to The World's Borough. Further proof that Queens is open for business and leading the way," he tweeted.
According to Resorts World, the development brings the racino's total investment in its New York City location to over $1.1 billion.
The hotel also features the Sugar Factory Restaurant, a café and sweet shop, which is open for breakfast, lunch and dinner and is known for its milkshakes and old-fashioned sundaes. Its grand opening on Aug. 15 will feature DJ Pauly D, reality star of MTV's "Jersey Shore."
The hotel's amenities include a fitness center, conference and meeting spaces and additional gaming areas. The centerpiece of the property is a grand lobby that connects the hotel with the casino.
link to article:
https://www.qchron.com/editions/queenswide/queens-resorts-world-opens-hyatt/article_20cb4a7a-9ecf-5ab3-82b3-05dfa4424fc3.html