Kimberly Winston| August 10, 2022
The hotel was the first 4-star property to open in Southeast Queens in more than 50 years!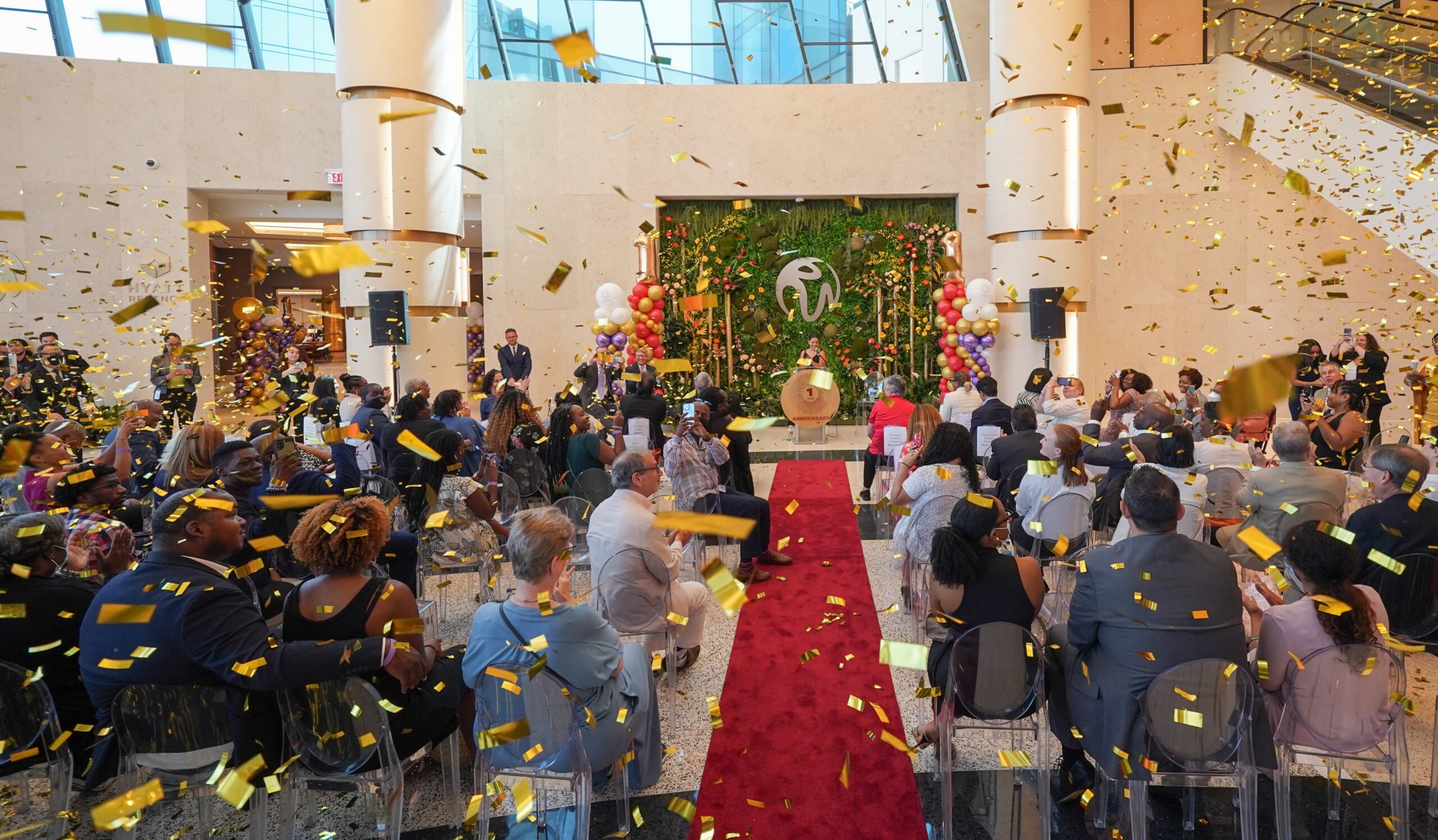 Queens, NY – Resorts World New York City (RWNYC) announced today the celebration of Hyatt Regency JFK Airport at Resorts World New York City's first anniversary. The $400 million hotel, which opened at Resorts World New York City in August 2021, offers a respite for guests to play, stay, dine and be entertained.
The eight-story Hyatt Regency hotel features 400 residential-inspired guestrooms and premium suites designed for productivity and peace of mind, equipped with multi-functional in-room technology, along with the world-renowned Sugar Factory Restaurant, a fitness center, state-of-the-art conference and meeting spaces, retail experiences and additional gaming areas.
"We've had the honor of hosting guests from all over the world over the last year, including some who believe this might just be JFK's best airport hotel ever," said Robert DeSalvio, President, Genting Americas East, the world's largest Destination Resort operator. "And call us biased, but we have to agree. We couldn't ask for better partners than Hyatt Hotels, who helped us to bring our long-time vision for the property to life. As we continue to explore new opportunities, we believe more travelers will take advantage of our world-class resort experience as we look to add more exciting amenities in the coming years."
"As we celebrate the hotel's first anniversary, we also celebrate the hotel's responsible and empathetic hospitality that delivers a value-driven guest experience at the highest level," said Richard Ross, Regional VP, Franchise Field Operations, World of Hyatt. "This enthusiastic and proud delivery of care aligns with the quality our guests expect from the Hyatt Regency brand, and we encourage guests traveling to New York City – whatever the occasion or budget – to indulge in a stay at Hyatt Regency JFK at Resorts World."
The hotel addition created as many as 500 good-paying careers for New Yorkers and brought the total investment in Resorts World New York City to over $1.1 billion after Genting spent more than $700 million to enhance the existing Aqueduct grandstand to become a leading entertainment destination.
"Resorts World New York City continues to deliver on its promise to create jobs for Queens residents," said New York State Senator Joseph P. Addabbo Jr., of Queens, who also serves as Chair of the NYS Senate Racing, Gaming and Wagering Committee. "This addition also introduced more people from around the world to my home borough. I look forward to Resorts World's continued contributions to New York's economic recovery and can't wait to see what's next for the property."
"This has been a fantastic addition to Queens," Assemblywoman Stacey Pheffer Amato said. "To have a hotel like this where visitors can stay and easily access all our borough has to offer, from its diverse neighborhoods to cuisines from around the world, to our beaches and parks, is exactly what we needed."
"The increased tourism the hotel has brought to our community has grown our local economy and given Queens residents jobs that are much needed after the massive disruption in the job market brought about by the pandemic," said Councilwoman Joann Ariola. "This hotel quickly made Resorts World even more of a must-see destination in Queens. Congrats to the team and Hyatt on this milestone."
The hotel's soaring grand lobby, which connects it with RWNYC, is perfectly suited for seamless gatherings like art exhibits, events and musical performances. RWNYC has hosted the Wintercon New York Comic and Sci-Fi Expo for several years, but this was the first year collaborating with Hyatt Regency JFK Airport, which easily welcomed out of town visitors for an overnight stay. There are also a variety of non-gaming amenities to complement the most innovative gaming products and entertainment offerings.
Hyatt Regency JFK Airport at Resorts World New York City has been recognized in its first year by the Queens Chamber of Commerce's Building Recognition Awards, spotlighting excellence in the design and construction of buildings and building projects contributing to the architectural betterment of the Queens community. The Hyatt Regency JFK Airport at Resorts World New York City took home the Best New Construction and Interior Design award in the hotel category.
The hotel's intuitive, stress-free accommodations are ideal for business and leisure travelers alike thanks to an incredibly convenient location near JFK Airport. The hotel is easily accessible by the A Train, Q37 bus and LIRR to Jamaica Station with pick-up from a free casino shuttle.
For more information, please visit rwnewyork.com.
Additional photos from today's celebration can be found here.
The term "Hyatt" is used in this release for convenience to refer to Hyatt Hotels Corporation and/or one or more of its affiliates.
About Resorts World New York City
Resorts World New York City (RWNYC) is New York City's first and only casino-hotel, offering over 10 million guests annually an unparalleled gaming and entertainment experience and generating over $3 billion for the State's education system since opening in 2011. The opening of the Hyatt Regency JFK Airport at Resorts World New York gave visitors from around the world more ways to enjoy the ultimate play and stay experience. Dining options include Sugar Factory American Brasserie, America's favorite eatery and celebrity hotspot. There are a variety of non-gaming amenities, as well as entertainment options, allowing guests of all interests and budgets an experience that fits their personal tastes. RWNYC is operated by the Genting Group, a global company founded in 1965, operating destination resorts in Las Vegas, Bimini, Malaysia, Singapore, the Philippines, and the United Kingdom. Genting has more than 50 years of experience in the travel and leisure industry and collectively employs approximately 60,000 people while offering an unparalleled resort experience to over 50 million visitors a year worldwide.
About Hyatt Hotels Corporation
Hyatt Hotels Corporation, headquartered in Chicago, is a leading global hospitality company guided by its purpose – to care for people so they can be their best. As of June 30, 2022, the Company's portfolio included more than 1,150 hotels and all-inclusive properties in 72 countries across six continents. The Company's offering includes brands in the Timeless Collection, including Park Hyatt®, Grand Hyatt®, Hyatt Regency®, Hyatt®, Hyatt Residence Club®, Hyatt Place®, Hyatt House®, and UrCove; the Boundless Collection, including Miraval®, Alila®, Andaz®, Thompson Hotels®, Hyatt Centric®, and Caption by Hyatt; the Independent Collection, including The Unbound Collection by Hyatt®, Destination by Hyatt™, and JdV by Hyatt™; and the Inclusive Collection, including Hyatt Ziva®, Hyatt Zilara®, Zoëtry® Wellness & Spa Resorts, Secrets® Resorts & Spas, Breathless Resorts & Spas®, Dreams® Resorts & Spas, Vivid Hotels & Resorts®, Alua Hotels & Resorts®, and Sunscape® Resorts & Spas. Subsidiaries of the Company operate the World of Hyatt® loyalty program, ALG Vacations®, Unlimited Vacation Club®, Amstar DMC destination management services, and Trisept Solutions® technology services. For more information, please visit hyatt.com.
About Hyatt Regency
The Hyatt Regency brand prides itself on making travel free from stress and filled with success. More than 220 conveniently located Hyatt Regency urban and resort locations in more than 45 countries around the world serve as the go-to gathering space for every occasion – from efficient personalized, high-touch business meetings to energizing family vacations. The brand offers stress-free environments for seamless gatherings and empathetic service that anticipates guests' needs. Designed for productivity and peace of mind, Hyatt Regency hotels and resorts offer a full range of services and amenities, including the space to work, engage or relax; notable culinary experiences; technology-enabled ways to collaborate; and expert meeting and event planners who can take care of every detail. For more information, please visit hyattregency.com. Follow @HyattRegency on Facebook, Twitter and Instagram, and tag photos with #HyattRegency.
Contact: Kimberly Winston
RWNY@mercuryllc.com